As people's demand for meat and eggs increases, an efficient modern poultry farming model is crucial. Battery cage system – to achieve large-scale layer and broiler farming. These state-of-the-art cages provide a comfortable, safe environment for your layer hens, ensuring their health and maximum productivity. In this blog post, we explore the benefits of battery cage systems for sale, focusing on their durability, roominess, and contribution to a thriving farming business.
1.Durability
When investing in poultry equipment, it is critical to consider its longevity. Battery cage systems sold, such as those sold in Zambia, are made of hot dipped galvanized material. This galvanizing process not only makes the cage stronger, but also extends its service life to an impressive 15-20 years. By choosing durable cages, you can save money in the long run and ensure your investment will stand the test of time.
2.Spaciousness
The welfare of layer hens is of paramount importance. The battery cage system provides enough room for each bird, increasing their comfort and productivity. With a living area of ​​approximately 450 cm² per chicken, these cages provide the hens with plenty of room to move around, spread their wings and engage in natural behaviour. More space not only contributes to the health of the flock, but also prevents overcrowding, reducing stress and disease risk.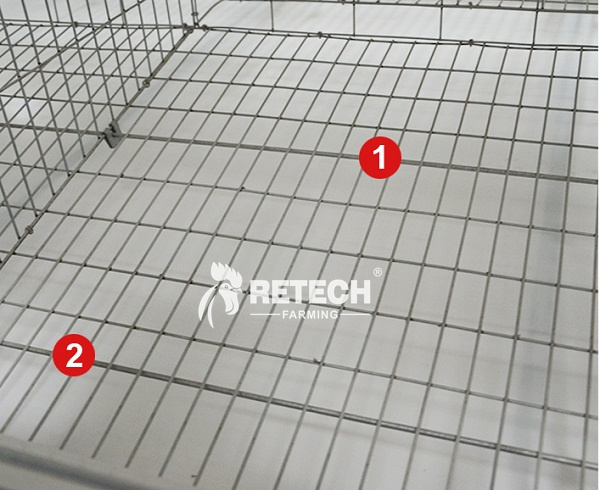 3.Comfortable breeding environment
Layers need a nurturing environment that promotes their physical and mental health. The chicken raising system meets this need by providing a comfortable housing environment. Adequate space allows for good ventilation, ensuring good air quality and minimizing the chances of developing respiratory illnesses. Additionally, cages provide plenty of food and water, allowing your hens to maintain a healthy diet and meet their nutritional needs.
4.Improved hygiene and ease of administration
Maintaining a clean and hygienic chicken farm operation is critical to preventing disease and ensuring optimal egg production. The battery cage system facilitates cleaning and is easy to manage. These cages are designed to allow manure to fall through the wire mesh, preventing the hens from touching and minimizing the risk of infection. Plus, egg collection with battery cage systems becomes hassle-free as they are designed for easy egg collection without causing any harm to the hens or affecting their comfort.
Investing in the sale of chicken raising systems is a wise decision for the modern chicken farming industry in Zambia. These durable and spacious cages provide a comfortable housing environment to ensure the health and productivity of the layers. Long life, hygienic design and easy management of battery cage systems will help your poultry business succeed. Choose this advanced farming equipment and witness the benefits it brings to your chicken farm.
We are online,what can i help you today?
Please contact us at:director@retechfarming.com;whatsapp: 8617685886881